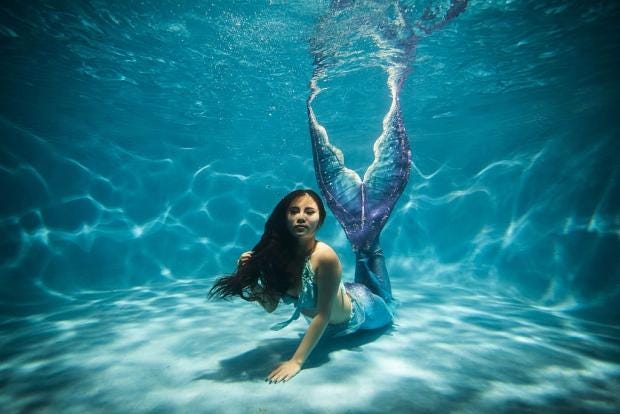 Yes, mermaids are apparently quite big now, thanks (I assume) to Disney. As supernatural creatures go they've got horror potential, of course, but in fiction they generally tend to be cute and whimsical. Anyway, the question we are all asking today is,
what are Germany's top mermaids up to?
Merfolk-fanatics between eight and 48 years old attended the event in the town of Suhl in southern Thuringia which organizers claimed was the first ever German national championship in mermaid swimming, also referred to as "mermaiding".
And especially competitors from the lower half of the Bundesrepublik proved that they had thoroughly analysed Disney's The Little Mermaid.
Well, there you go. Congratulations to the plucky winners, who (wait for it) clearly got into a flap in the best possible sense.
"Merthletes" from Bavaria, Thuringia and Baden-Württemberg brought in two wins for each state, as children competed over 50m and adults over twice that distance.
Lotta Müller from Bavaria took gold in the highest-represented and fiercely-contested category of eight- to nine-year-olds, while Alexander Sengpiel also of Bavaria only had to out-flap a few other men to come in first in the adult competition.
All good, wet, harmless fun.
My first encounter with a mermaid (in fiction) was not in the Hans Anderson story, because I don't think I had a book of his fairy tales as a lad. No, it was almost certainly in
this film
, based on a stage play, and released in 1948. Glynis Johns stars as a seductive mermaid who gets caught by a man out fishing off Cornwall, and Margaret Rutherford as the nurse hired to look after Miranda, the supposed 'invalid' who is pushed around in a bath-chair.
And, yes, Hollywood did remake this minor British gem as Splash! (exclamation mark compulsory) starring Daryl Hannah, with Tom Hanks as the hapless bloke. It's got considerably less charm and wit, and of course in the remake the mermaid has legs when she's out of the water (a bit like a selkie, I suppose), and this spoils a lot of the fun. It also provides the director with opportunities to present Ms Hannah, a hot property after her role in Blade Runner, in a Penthouse-y way. She's the Not So Little Mermaid.
I mentioned that Miranda was based on a hit stage play by Peter Blackmore, but I've always been surprised that nobody seems to make the connection to H.G. Wells (1866-1946). His 1901 novel
The Sea Lady
seems to have been the 'inspiration' (ahem) for Blackmore. Especially the bath chair.
The main difference is that, while Miranda is jolly good fun, Wells' novel does not show the author at his best. While imaginative, it is also self-consciously clever, offering social satire and a complex narrative approach that doesn't really work. It also emphasises the mermaid as an immortal, supernatural being with siren-like qualities, luring men to their deaths as it suits her. It's one of those early books, like similarly-themed
The Wonderful Visit
, the doesn't make the cut when compared to
The Time Machine
or
The War of the Worlds
. That said, it's still quite readable.
And the illustrations for the original edition are wonderful. I couldn't resist including this one.
The more things change...
Anyway, back to that horror potential I mentioned at the start. There just aren't that many examples of good mermaid horror. The only recent film I've seen on the subject is The She Creature (2001), starring Rufus Sewell (not as the mermaid, obviously). It's not great, even for a TV movie. For a start, it's set in Ireland in 1900, which gives us some Ould Oirish Blarney. Then there's the plot, in which a couple of travelling showmen encounter an old man with a captive mermaid. For implausible reasons this leads them to travel to the Sargasso Sea, where the mermaids spawn. And, yes, the mermaid is not nearly as nice as she seems.
A few other horror films about mermaids have cropped up in recent years. of which one seems to be called Killer Mermaid. To me this seems rather like making a film called The Sexy Woman in Black is a Vampire, or Guess What, the Cop is the Serial Killer, but what do I know?
Suffice to conclude that the world has yet to see the classic mermaid horror movie, and perhaps it can't be done. But Miranda is well worth a look.