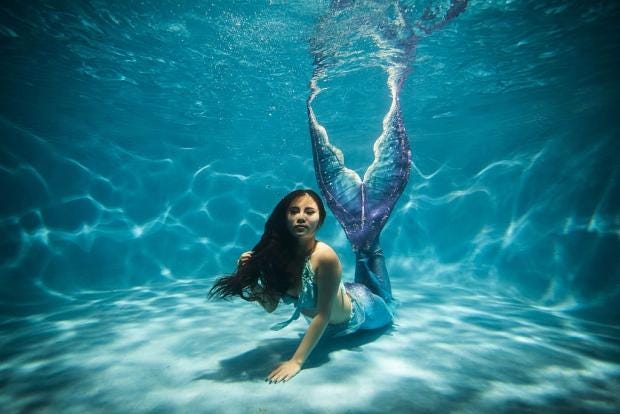 Yes, mermaids are apparently quite big now, thanks (I assume) to Disney. As supernatural creatures go they've got horror potential, of course, but in fiction they generally tend to be cute and whimsical. Anyway, the question we are all asking today is, 
what are Germany's top mermaids up to?
Merfolk-fanatics between eight and 48 years old attended the event in the town of Suhl in southern Thuringia which organizers claimed was the first ever German national championship in mermaid swimming, also referred to as "mermaiding". 
And especially competitors from the lower half of the Bundesrepublik proved that they had thoroughly analysed Disney's The Little Mermaid.
Well, there you go. Congratulations to the plucky winners, who (wait for it) clearly got into a flap in the best possible sense.
"Merthletes" from Bavaria, Thuringia and Baden-Württemberg brought in two wins for each state, as children competed over 50m and adults over twice that distance.
Lotta Müller from Bavaria took gold in the highest-represented and fiercely-contested category of eight- to nine-year-olds, while Alexander Sengpiel also of Bavaria only had to out-flap a few other men to come in first in the adult competition.
 All good, wet, harmless fun.