I've just watched Lifeforce (1985) all the way through for the first time in many years. I have a few thoughts. Oh dearie me, yes.
For a start, this is a film with many real virtues. Unfortunately none of them have much to do with the script or the lead performances. Nope, it's all down to the effects, the general production values, Tobe Hooper's solid direction, and a very good (if somewhat under-used) supporting cast. Much of the blame for this hefty box-office flop lies with Colin Wilson's original story, which - as my clickbaity title for this post hints - is wildly derivative stuff with a sweaty whiff of soft porn. Wilson's novel
The Space Vampires
I have not read. But if the script is any guide, it must be a doozy. But let's consider those virtues I mentioned first.
For a start, John Dyskra's space effects are rather good, especially in the opening sequence when the spacecraft Churchill approaches Halley's Comet and identifies a 150 mile-long alien spaceship lurking in the plasma fog around the nucleus. I mean, that's a good opener. They even try to add a bit of Real Science by having the Churchill (it's an Anglo-American space mission you see) powered by the Nerva rocket. Nerva was a real nuclear rocket engine researched in the early Sixties, thought it could not provide the continuous 1g thrust claimed here. Still, good try.
"Hello? Evil Spaceship Design Bureau? You've got that bonus we talked about."
Then there's the alien spacecraft, which is a long, black thing with tentacles and a giant umbrella at the other. It's a British film, after all, so umbrellas need to be referenced. While giant space objects are commonplace since Independence Day, the vampire ship is one of the snazzier examples. You can see where the budget went as the Churchill's astronauts, led by John Railsback's Colonel Carlson, navigate through the vast, needle-like vessel. They find lots of desiccated bat-like creatures, and then three suspended animation caskets containing 'humans'. Alarm bells should be ringing very loudly at this point, but our bold explorers just goggle at the big, nudey wonder of it all.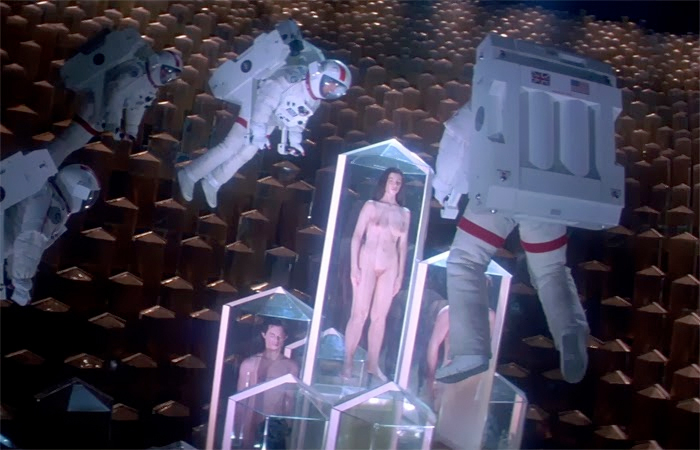 "Nudists in Spaaaaaaaace!"
The three sleepers consist of two naked blokes and a naked woman, played by French starlet Mathilda May. (I recently discovered that May also appeared in a film called The Tit and the Moon, on which I offer no comment.) Colonel Carlson feels an intense attraction to the sexy naked woman, which were are supposed to believe is mystical in some way. The astronauts take the three sleepers and sample bat-alien body back to the Churchill, and set off for Earth.
Cut to mission control in what may be Reading, or somewhere drearily British. The Churchill has entered Earth orbit but is not responding to radio signals. Cue the rescue mission by the Columbia, an ill-fated real-life shuttle. Turns out the Churchill's crew are all dead due, apparently, to a fire on board. However, the taped 'log' has been wiped, the sexy nudies are unharmed, and an escape pod is missing... Look, why didn't you just call it the Demeter and have done with it?
Anyway, the Columbia brings the three nudies down to the British etcetera, where they are put under guard. Predictably enough, it is Ms May who suddenly wakes up, grabs a guard, and French-kisses him to death. To paraphrase Kit Marlowe, her lips suck forth his soul, and fuse the lights in a lavish display of early CGI. The 'girl', as this very Eighties movie refers to the alien woman, then walks out of the complex using her space vampire powers to zap people and shatter glass.
"Give it to me straight, doc..."
All this is rather disconcerting for the two chaps trying to control the situation. They are Britain top thanatologist Doctor Hans Fallada, played by Frank Finlay, and Peter Firth as Colonel Caine of the SAS. Fallada concludes that the space girl is sucking the life-force out of people and that this might be a problem. The guard she apparently killed wakes up in the autopsy table and attacks a doctor, revealing that Ms May has the power to create what I will call 'zompires', i.e. undead humans who spread the contagion of life-force sucking. Sort of thing.
"Jellybeans! Nancy, Jellybeans!"
The zompires are rather naff monsters, but rather amusing as they resemble Spitting Image puppets of Ronald Reagan. As Fallada points out, if that sort of contagion spreads the world is doomed. But the nudey girl has made good her escape, it seems. And then, to complicate things further, Colonel Carlson lands in Texas and joins the team. He has nightmares/wet dreams about Ms May, again suggesting some deeper connection. After all, why did she spare him? It's hard to care as Railsback is not a natural lead. His position is like that of Dana Andrews in Night of the Demon - the obligatory, affordable American in a UK horror flick.
The action shifts north as it transpire that the 'space girl' - they really do keep calling her that - has taken to jumping from one human body to the next, leaving a trail of crumbling Reagans. And that trail leads to a Broadmoor-like secure hospital presided over by one Doctor Seward - no, sorry, easy mistake to make. It is in fact run by Patrick Stewart. For Various Reasons, the future Captain Picard gets snogged by Railsback. Because he's possessed by the 'space girl', you see. Nothing Freudian going on, eh Colin?
"Make it so!"
Back in London Fallada has sort-of discovered that you can kill the space vampires with leaded iron inserted just below the heart. This variation on the familiar wooden stake is founded on pure mumbo-jumbo, but conveniently it allows Fallada to defend himself against one of the base guards. Because the male vampires have also taken to jumping bodies and that. It's all rather confusing, and not make simpler when Ms May's body is created aboard a helicopter by the blood of Patrick Stewart's doctor and a dead Home Secretary. It's an amazing effect, and essentially pointless for plot purposes.
"Bloody Hell, pet."
Let us return to my silly title. So far we have seen the film reprise the first two Quatermass serials. Q1 - British spaceship goes off into the void, returns with Something Alien. Authorities response is less than brilliant, alien escapes. Q2 - Alien organism covertly takes control of people, especially military types, and lays foundation for overall conquest/annhilation of humanity. But what of the third movie, Quatermass and the Pit? And indeed the fourth serial, the ITV one with John Mills? Well, here they come.
After the blood bubble version of Ms May explodes on board the chopper we learn that central London is in chaos because the zompire plague is out of control. The phrase 'you don't want to cross the river, mate', has become more pertinent than ever. Scenes showing panic and devastation in the capital as zompires attack the uninfected are a straight streal from Quatermass and the Pit. This is what the Hammer boys would have done if they'd had the budget. Heck, there's even a shot of the Mitre pub where brave, selfless Doctor Roney dragged the possessed Quatermass and poured him a large whisky. And there's a glimpse of a Tube station, though it's not Hobbes Lane. All in all you just know the set designers etc had a lot of fun with this lovable turkey - see below.
'Glasgow's Miles Better...!'
Again, the effects are very good in all respects, with things exploding as the life energy is sucked out of pretty much everyone and channelled via the female body lying in the crypt of St Paul's. Colonel Caine manages to kill the surviving male vampire with Fallada's blade, the doctor himself having succumbed the plague already. God, it's a mess. Anyway, the alien ship - remember that? - has gone into orbit, deployed its soul-snaffling death-brolly, and is hoovering up the life-forces of Londoners through its scary Lovecraftian tentacles.
Yes, you're quite right, this sound a lot like the alien space entity harvesting some vital essence from young folk in the Quatermass Conclusion. However, Colin Wilson's novel was published in 1976, while Nigel Kneale's final Quatermass serial aired in 1979. Was Nigel Kneale influenced by Colin Wilson, who he must certainly have been aware of? Or was the idea of people being treated like a natural resource and strip-mined from space 'in the air' during the Seventies, during the heady dawn of the environmental movement?
Never mind, let's get back to St Paul's. Colonel Carlson locates Ms May and they snog fiercely, while she tells him telepathically that he is in fact 'one of us', which is why she is his soul mate. The other resident colonel, Caine, battles his way in and chucks Fallada's medieval anti-vampire sword to Caine, who impales himself and Ms May with the vorpal blade. Cue a nasty feedback loop that sees the souls of the star-bound lovers shoot up to Starship Spooky. It then leaves orbit, bound for Halley's Comet, presumably to return in another 76 years and zompire the shit out of us again. It also leaves poor Colin Firth standing in what must have been one of the most expensive disaster areas in British cinematic history.
In conclusion, Lifeforce is one of those great bad movies that you can enjoy watching, drunk or sober, alone or in company. It's a gift that keeps on giving, like a zompire plague.
Resistance is futile.