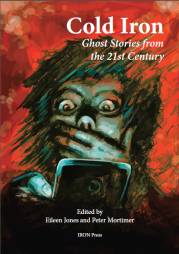 We're nearing the end of
Cold Iron: Ghost Stories from the 21st Century
, and it's been quite a journey. The stories have ranged from okay to excellent, with the weighting very much toward the latter. So I'm happy to report that Beda Higgins tale maintains the high standard.
The story begins in one of our beleaguered NHS hospitals where a tired nurse makes a serious mistake. A boy dies. Is Jo to blame? She tries to forget the incident when she jets off to Buenos Aires to meet her boyfriend. As you might imagine, this is a tale of supernatural vengeance and/or justice.
The Argentine capital - home of Borges, of course - provides a suitably strange backdrop as doom zeroes in on Jo. She starts seeing images of death, which her boyfriend does not notice. Eventually they end up in a cemetery that is also a major tourist attraction. The final scene - involving a pic taken with a phone - is a little masterclass in how to make a modern ghost story work like a classic.
More from this running review soon. Nearly there!