When I was a lad I collected stamps, albeit only for about twenty minutes. I think I realised that, unless I was an utter fanatic, I wouldn't get very far in the world of philately. And couldn't really afford to take all that time off from reading Biggles and watching Doctor Who. So my small stamp collection, which was sort of half-stuck into an album, ended up at the back of the wardrobe and has long since been chucked out.
In a way, this is a pity. It seems that stamps have just been getting ever-spookier since I gave up on them. For instance, there's this latest creation from our Canadian cousins.
Apparently
the woman with the bouquet above is the Grey Lady of Halifax Citadel. Canada's postal service has produced a range of spooky stamps this year based on 'true' ghost stories, and they're not the first set by any means. Last year unsuspecting folk were faced with this ghost bride.
Canada seems to produce sets of five ghost stamps a year. Will they run out of ghost stories? Well, in a country that size it may take a while. I particularly like ghost ships, so I thought I'd share this one. Click to enlarge.
I was so taken by all this that I started to look for similar examples around the world. Sadly, given Britain's pre-eminence in all things ghostly, I was a bit disappointed by Royal Mail. But they did do this one -
part of a set
celebrating distinguished Brits.
And I'm afraid that's it. Other countries, especially newer and/or smaller nations, do of course put out all sorts of wacky stamps to raise revenue from collectors, so I had a look to see if any specialised in the supernatural. I found plenty of aliens and spaceships...

But not much in the way of ghosts.
Nice try, mate.
Iceland, on the other hand, has a lot of monsters, at least some of which must be classed as supernatural.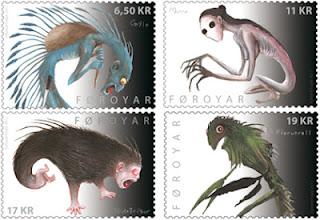 The same presumably goes for this amazing sheet from Palau.
And, with cryptozoology, we find ourselves back in Canada. And Something Hairy.