Peter Edward Cook (1937-1995)
From Beyond the Fringe through the Pete 'n' Dud years via E.L. Wisty, skewering the establishment in the Secret Policeman's Ball, and ending up with Chris Morris. He made some rubbish films because he wasn't an actor (Supergirl, anyone?), but he was a comic genius of the sketch and monologue. I'd rather be a judge than a miner, but I'm glad that I lived on the same planet as Peter Cook, comedy hero. One day, someone will invent the plib.
Mervyn Laurence Peake (1911-1968)
The exile from Gormenghast. Poet, artist, illustrator and novelist, he was never popular enough to get rich and his later life was blighted by illness. But his legacy will, I think, survive the current outpourings of sub-Tolkien fantasy, with its dog-eared spell books and rusty swords. True fantasy is a work of individual imagination, not formula, and Peake's work represents English fantasy at its best. Again, a writer I encountered during that 'difficult' (i.e. bloody awful) late teens/early twenties phase. I still walk the melancholy halls of Groan. His poetry is well worth seeking out, as is his little book 'Letters from an Uncle Lost in Polar Climes'.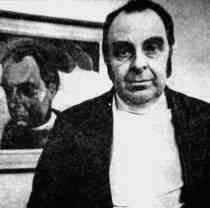 Nigel Kneale (1922-2006)
Manxman and TV scriptwriter extraordinaire, he gave the world Quatermass. He also wrote a good collection of stories, Tomato Cain, which is well worth seeking out. He predicted modern reality TV in his dystopian 'The Year of the Sex Olympics' (1968), and wrote a superb modern ghost story, 'The Stone Tape'. Oh, and he adapted 1984 for television (see Peter Cushing). When I was a lad, Kneale was creating the kind of televsion I wasn't allowed to watch. Now I'm old enough to watch what I like, nobody in this country seems to have a tithe of Kneale's talent.
Peter Wilton Cushing (1913-1994)
Hammer Horror, and so much more. I'm indebted to Mark Gatiss for choosing Peter Cushing in the BBC Radio 4 series Great Lives. Thanks to this programme I know that Cushing was put on a retainer by the BBC because he was considered one of the best actors of the Fifties. His first big role was as Winston Smith in the legendary 1954 version of Orwell's 1984. The Queen liked it, so it was screened twice in one week! (Not yet available on DVD, though.) Cushing played Sherlock Holmes and Doctor Who, and a generation know him from Star Wars. But of course he was Dr Van Helsing and Dr Frankenstein for a generation of spotty little boys. Oh, and he appeared in Nigel Kneale's 'Abominable Snowman', which is - you guessed it - worth seeking out. Below you can see Peter Cushing with Donald Pleasance in 1984.