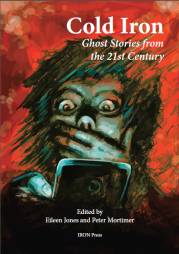 A new review copy means a new running review, this time for an anthology produced here in my native North East.
Iron Press
, founded by Peter Mortimer, is one of those regional small presses that publishes poetry, drama, fiction and non-fiction. Cold Iron is described thus:
A collection of seventeen ghost tales, whittled down from a total of almost 200 submitted from writers both established and unknown, bring a selection both paying homage to the tradition of the ghost story and placing it firmly in the context of our own times.

Thus, ghosts appear on football terraces, from cancer wards, on the floor of TV shows, on the late night service bus, over a Sunday dinner and at a supermarket checkout. These terrifying tales pay homage to the traditions of the genre, but tackle peculiarly 21st Century topics.
I have to admit I always feel some irritation at the notion that it takes 'proper writers' to make the ghost story an effective modern literary form. It's not as if all of us genre-hounds are just noodling around self-indulgently like an M.R. James tribute band. However, let us set that aside and consider that among the contributors here is Charles Wilkinson, who is certainly 'one of us', and whose recommendation led to me getting my hands on Cold Iron in the first place. This tells me the standard is pretty high, and I'm looking forward to seeing what Charles and the other sixteen authors have come up with.